3 Reasons You Need Both PPC and SEO
11 March, 2023
webicorp
Uncategorized
Those who have worked in digital marketing know that any business needs the power of both PPC and SEO. The two are actually not mutually exclusive but are two sides of the same coin. In fact, there exists a study that proved that when used together, SEO and PPC both provided the best results.
As every digital marketing company knows, SEO is a much slower process than PPC. It takes around 6 months for SEO to yield any fruitful results. Moreover, SEO generates organic leads making use of useful content. The chances of conversion (which is something businesses generally look at as a factor for success) are quite slim with SEO.
Not so for PPC. Pay-per-click campaigns are the ads that are run on Google. These ads target users who are not there to learn about your product but are ready to buy or opt-in. Hence, PPC receives a lot more warm leads and consequently conversions. In this blog, check out 5 reasons SEO and PPC need to be used together and should not be siloed teams.
Performance of PPC ads can help the content team
The first way in which PPC influences SEO is through the use of high-converting ad copy or creatives. In a PPC campaign, creatives and ad copy are crafted by the content team. If they receive feedback from the PPC team about which creatives or ad copy was popular, they can use that information to target fresh audiences using SEO.
Greater Opportunity for Conversions
You may believe that having two campaigns running at the same time might lead to cannibalization. Even though this may be the case, it is not completely detrimental to your campaign. Instead, there is a greater potential for conversions from both organic and paid listings.
Results Appear On SERPs More than Once
Every digital marketing company will tell you that you can appear on the SERPs more than once if you are running PPC Ads as well as organic results. To rank organically is not an easy prospect. It requires a lot of skill from the content writer to get content ranking on the first page of the SERPs where it will be discovered.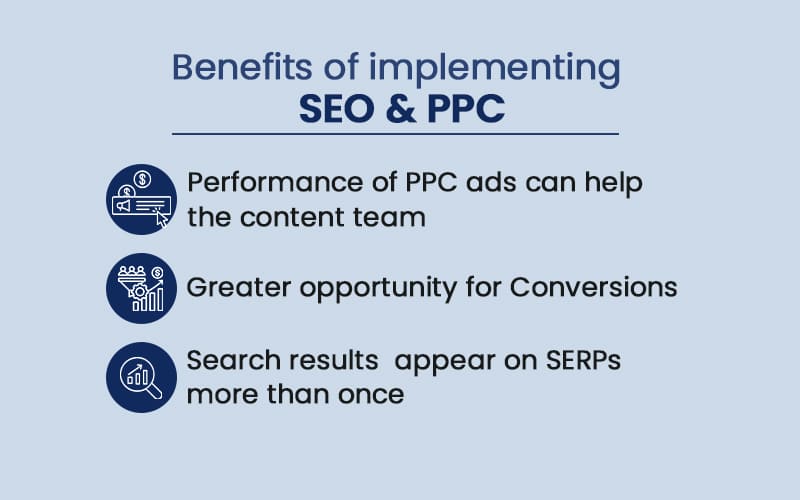 Conclusion
Webicorp is one digital marketing company that insists that clients perform both SEO and PPC if they wish to yield good results for their company. We ensure that the SEO and PPC teams do not exist in siloes but are integrated. There is one digital marketer who can decide the keywords for both. Obviously, transactional keywords will not be used but informational ones for SEO and the converse is true for PPC.