Crisis Management : How to Handle Negative Feedback and Crises on Social Media
In today's world, social media has become an integral part of our lives. It is a platform where people express their opinions and share their experiences.
Brand bashing, negative reviews and mean comments all ov\er the internet and social media are nothing new. One little thing goes wrong and people leave no stone unturned to complain about a brand and flood the social media platforms with negativity. Many big brands go through the same and their social media marketing agency helps them effectively manage them and restore the brand's image.
This blog has some strategies for negative feedback and crisis on social media.
Monitor the Social Media Channels
The first step to handling negative feedback and crises on social media is to be aware of what is being said about your brand. You should monitor your social media channels regularly to see what people are saying about your business.
Quick Response to the Comments
When you receive negative feedback or a crisis arises on social media, it is important to respond quickly. Delaying your response can make the situation worse and damage your reputation. Responding quickly shows that you are proactive, and that you care about your customers.
Have an Apologetic and Empathetic Tone
Having an apologetic and empathetic tone in the response will make the audience feel that you and your brand cares about the audience's problems and that your brand is apologising for the mistake you have made.
Acknowledge the Issues
When responding to negative feedback or a crisis, it is important to acknowledge the issue. This shows that you are taking the feedback seriously and are willing to address the problem. Ignoring the issue will only make the situation worse.
Offer a Solution
When responding to negative feedback or a crisis, it is important to offer a solution. This shows that you are proactive and are willing to address the problem. Offering a solution can also help to turn a negative situation into a positive one.
Do Not Remove the Negative Comments
Deleting the abusive comment is still okay, but deleting the genuine complaints, negative reviews could be a huge mistake from your side. You hiding, censoring or deleting can anger those legitimate complaints. Always remember that your potential buyers are the watchdogs. Responding and rectifying will have them glued to your brand.
Be Transparent
When responding to negative feedback or a crisis, it is important to be transparent. This means being honest about the situation and providing as much information as possible. Being transparent can help to build trust with your customers and show that you are committed to resolving the issue.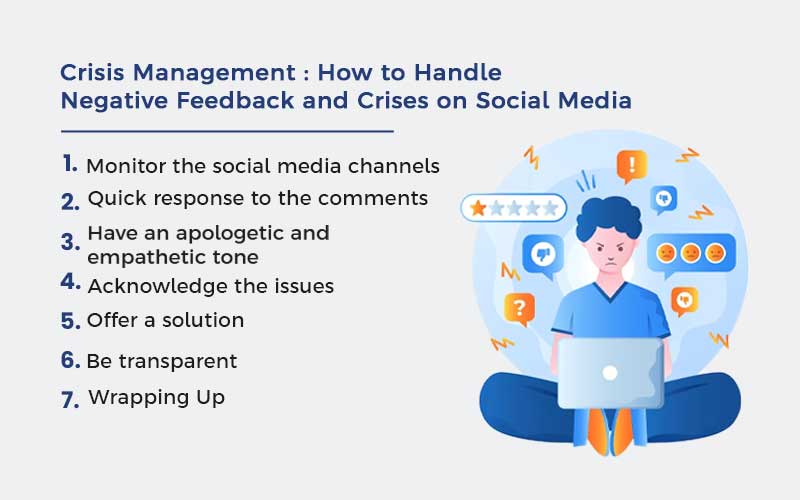 Wrapping Up
It's important to decide what's worth responding to. You need to decide if the person's comments are worth replying to or not. There can be many fake accounts that you don't need to attend, same goes for the abusive comments. It's essential to keep these people on your radar and monitor what they're saying and a social media marketing agency can help you with that very efficiently.