Design Tips from a Leading Web Development Company
"What separates design from art is that design is meant to be… functional."― Cameron Moll
Without a doubt, web design is meant to be functional and simple yet sophisticated enough that it attracts the attention of users to keep them focussed on the web page. One statistic from Forrester said that a good web design results in a 200% increase in conversions, so it goes to show that web design is crucial for any business, especially e-commerce ones.
Getting the web design right can be very difficult, and UX/UI designers often struggle to juggle client requirements with industry standards. On that note, here are some design secrets from a leading web development company that can help various other UX/UI designers with their craft.
UX/UI Design Tips From Webicorp, a Leading Web Development Company
At Webicorp, we create websites that are completely in-line with clients' requirements. However, we also make some suggestions to clients and this is the gist of those suggestions!
You need to think like a minimalist. The simpler the web design, the better it is for users. Websites are information-rich portals. They have to convey everything in a matter of seconds, so if there is too much drama on the website people may feel frustrated with using your website. Don't go there! Have a clean and simple layout with a few highlight points and that's all you should need.
Every Page Should Have One Purpose
Design pages with one purpose in mind. Do not try to club pages or have multipurpose pages. This adds confusion in the mind of the user and they will be tempted to jump off one activity and onto another. Sift through the information and make sure the important stuff rises to the top, while all inessentials go to the bottom.
There are people who believe in using 2 font types on a website, but we think 1 font type is quite sufficient. Using a combination of weights and points you can convey your message to the audience quite effectively.
It is this web development company's belief that white space should be used judiciously and carefully. Having a lot of white space gives websites a polished and refined look. Moreover, white space helps users focus on what's absolutely important very quickly.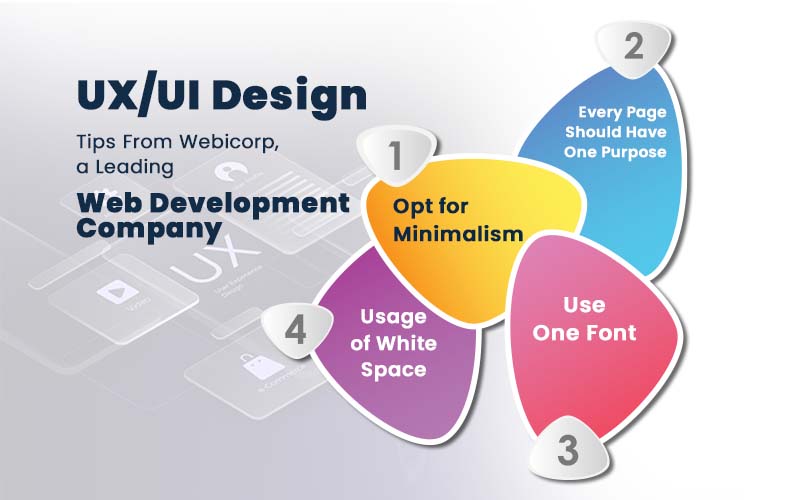 Conclusion
To sum up, web design should always focus on the client's audience and not on any generic preferences. What is your client's audience like? How do they interact with websites? Research on this and execute accordingly. Check out our portfolio to learn more.