How Effective is Social Media As a Marketing Tool?
17 January, 2023
webicorp
Uncategorized
The impressive growth of social media as a marketing tool in the last few years have really put the brands and businesses forward.
Social media marketing is a powerful way to boost businesses of all sizes to reach its prospects and targeted customers.
Social media networks like Instagram, Facebook, YouTube, Blogs and LInkedIn are the most used platforms to market and advertise about the brand, its products and services.
Every business, brand or anything that generates money has a social media account these days. People will search them on social media to check the number of followers and genuine reviews from others.
Great marketing on social media can bring remarkable success and generate quick leads to potential customers for your business. To do this you need to hire a professional social media agency in India.
What is Social Media Marketing?
Social media marketing is a form of digital marketing that leverages the power of popular social media channels in order to achieve the brand's marketing and branding goals.
It is not just about creating business accounts and posting when you feel like it, it is about routinely talking about the brands, tagging people, collaborating and running ads with proper call to action.
Social media marketing also includes paid social media advertising, where you pitch an amount to have your business appear in front of large volumes of highly targeted users.
To have a great social media presence and experience you need to be very transparent about your wants and needs to social media agencies in India.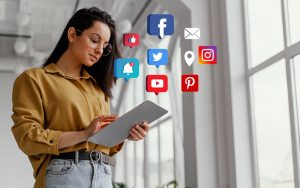 How Beneficial Is SMM to Businesses?
Here are some of the specific benefits of SMM:
Gives life to the business. Social media enables you to turn the business into an active participant in your market. The profile, posts, and communications with users form an approachable spirit.
Helps generate leads and customers. It can be done on platforms, through features like Instagram/Facebook shops, direct messaging, call to action buttons on profiles, and appointment booking capabilities etc.
Increases brand awareness. The visuality of social media platforms assist you to build an identity across vast audiences and improve brand awareness.
It builds relationships. The platforms open up both direct and indirect lines of communication with your followers and audiences through which one can connect, gather feedback, hold discussions, and network directly with individuals.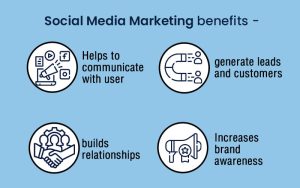 Conclusion
The cyberspace has significantly popularized social media networks. Marketing through social media platforms helps you build authority for your brand. This is an integral part of effectively positioning your business as a leader in the marketplace.
Collaborate with the best social media agency in India and get to know more about how it is done.