Why Is SEO Relevant in Times of Recession and Why You Should Invest In It?
24 January, 2023
webicorp
After being hit by the pandemic, the recession that pandemic brought up had all the businesses and brands flat on their faces. While coping with the former recession and second wave of Covid, there is a rumour of another recession to hit us which may come with the latest variant of Covid.
As expenses rise, many businesses are fastening their belts, cutting down unnecessary expenses and riding out the storm until the global markets turn back around stronger than ever. SEO being the long term strategy was still relevant at that period of time. It became even more important right after the world started to get back to normal.
Let us find out what the best seo agency in India, Webicorp has to say on this topic.
Why Did SEO Do Well in Recession?
By now we all know what SEO is and how important it is to a business.
If not anything, SEO mattered a lot during the hard times of pandemic that businesses have faced because:
A recession gives small businesses an opportunity to rise to the top with the help of SEO, for its flexibility. This is easily done by the best seo agency in India.
Recession allows businesses to fixate on more long-tail keywords to find localised and specific target audiences.
As SEO was incredibly budget-friendly during a recession the businesses and brands used free outlets to advertise themselves on the social media platforms.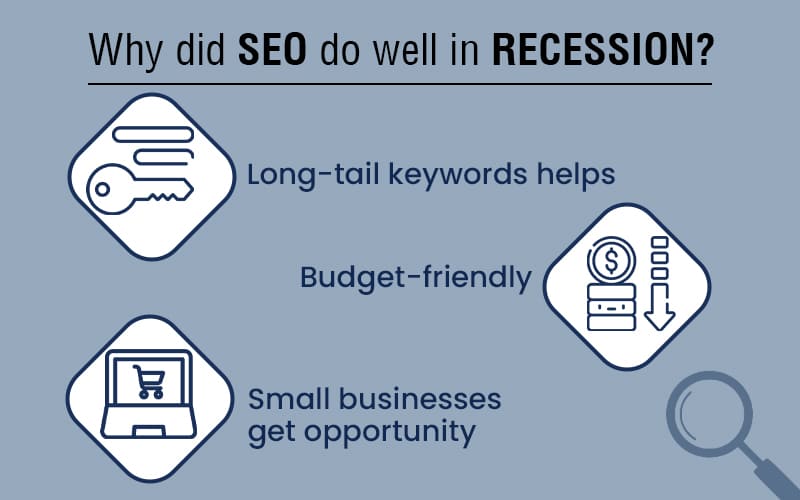 Why Invest Largely in SEO During Recession?
Here are some of the reasons why you should invest or should have invested more in SEO during the time of recession:
As mentioned earlier, SEO is constantly changing, growing and building your brand. By evaluating a brand's or a site's areas for growth and gauging their competition, it is just making the website more attractive to search engines.
In case you don't wish to run the ads and want to evaluate how well the website or the brand is performing then you can increase organic traffic by exposing your brand to new audiences and prospective customers and clients with the correct SEO strategy.
The organic reach is a cost effective SEO. A solid SEO strategy will bring you the most significant ROI. SEO will bring brand awareness to people who are searching for your product and service. They just need to find the right provider at minimal cost.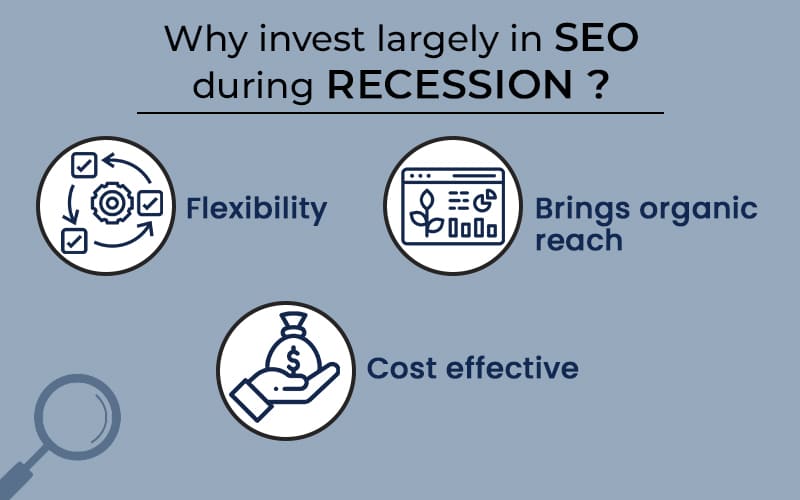 Final Thoughts
The pandemic is not certainly over but the businesses have slowly and steadily reverted back to their normal life after the economy headed towards a downturn.
SEO is what kept the ones alive who trusted the process.
It should be one of the first things that your business should invest in during a recession because all the work being put in during the recession will prove to be extremely beneficial and profitable when the bad period ends. And if it is done rightfully. Get help from the best seo agency in India for your business.